Meet The iGo Cordless Steam Cleaner
The dirt-busting, germ-killing steam cleaners in our award winning H2O range have transformed the way we deep clean our homes.
From the H2O HD to the H2O X5, each of these advanced cleaning solutions can give you the confidence to clean, sanitise, and deodorise any surface using only the power of steam. 14 million H2O steam cleaners have been sold around the world so far, and we have a feeling that number will only get bigger thanks to our most recent breakthrough in steam technology…
For the first time at Thane, you can buy a H2O cordless steam mop: the H2O iGO hybrid steam cleaner. This highly effective and technologically advanced cordless steam cleaner has all the benefits of our chemical free, water-based H2O cleaning products, plus two new revolutionary innovations – drier super steam and hybrid technology.
Keep reading to find out what sets the H2O iGO apart from other steam cleaners and if it's the best steam mop to safely clean your home and protect you and your family.
What'sspecial about the H2O iGO cordless steam mop?
Like all our eco-friendly and economical H2O products, our cordless steam cleaner only needs water to produce steam that blasts away dirt and bacteria. But there's so much more to the H2O iGO…
The H2O iGO hybrid steam cleaner has reinvented steam cleaning with two exciting innovations.
It has an optimised closed pressurised system that's more efficient than traditional steam mops and steam cleaners. It works by accumulating pressurised steam inside its steam vessel, which then releases targeted powerful water vapour from its large mop head to tackle the most stubborn messes.
What's more, the steam that's released from the H2O iGO cordless steam mop is super dry. This means less spitting and sputtering when you clean your floors. And because there's little moisture, there's no need for suction. Your floors are dry in seconds!
But what really makes the H2O iGO special is its hybrid technology. A first-of-its-kind, the H2O iGO is the only cordless steam mop in our range – and on the market. You won't find a steam cleaner like it.
The H2O iGO cordless steam cleaner has been designed so that you can effortlessly glide over flooring and move around and under furniture. No more getting tangled or having to rearrange your room. It's lightweight and slimline too, giving you even more movement when cleaning. You can look forward to your cleaning routines being more productive than ever. Simply unclick its cord and enjoy ultimate portability.
Is the H2O iGO best steam mop for you?
If you're looking for a steam mop that can sanitise, as well as deep clean your home, the H2O iGO is the best steam mop for you. It is lab proven to kill 99% of germs and bacteria using just the power of superheated steam. Plus, because it works without chemicals, the H2O iGO is safer for you and your family and better the planet – you'll save you money too.
Another reason why the H2O iGO could be the best steam mop for you is its ability to clean different areas of your home. You can take this cordless steam mop wherever there's mess to clean up. Upstairs or downstairs, indoors or outdoors. You can effortlessly steam clean vinyl, laminate, sealed hardwood, marble, and many more types of flooring. The H2O iGO has a carpet glider too, so you can clean and refresh your carpets and rugs.
The H2O iGO water tank is also double the capacity of other H2O cleaning products, which means you get 80 minutes of uninterrupted steam. Clean your entire house without having to stop and refill the tank!
And don't forget, the H2O iGO is a cordless steam mop. Its hybrid technology gives you the power to clean in multiple directions and in tight spaces. You can take it into places where corded steam cleaners can't reach, making it quite possibly our most manoeuvrable steam mop ever. Once you go cordless, you won't go back!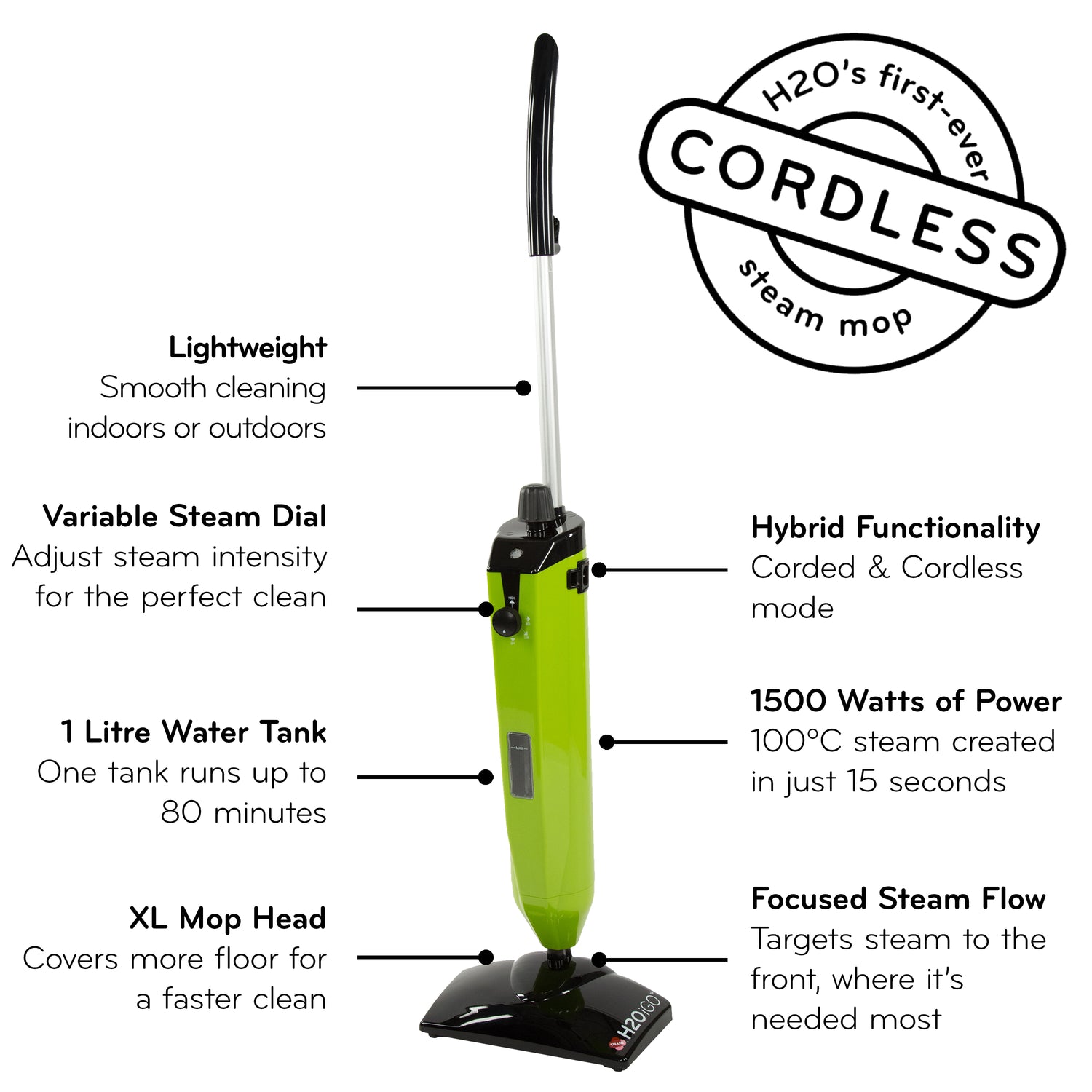 H2O iGO Hybrid Steam Mop
The H2O iGO cordless steam mop brings you two industry innovations. A closed pressured system for Drier Super Steam that leaves floors virtually dry and its Hybrid Technology for uninterrupted steam when plugged in or ultimate portability when cordless. Plus, you get the chemical free and germ-killing benefits that H2O steam cleaners are famous for.
FIND OUT MORE
Read all our H2O iGO reviews
"The H2O iGO is the best! I can use it corded or uncorded and the tank is huge. It holds enough water to clean my entire house without refilling"
– Alison B
"I'm killing germs as I clean and sanitize my floors with just pure water. I don't have to keep bending down with the cord, I can unclick it and move around my house freely"
– Emily G
"I'm totally impressed H2O iGO. I love that I don't have to worry about my grandchildren being exposed to harmful chemicals"
– Steve H.
REVIEWS
Why a H2O cleaner is the best steam mop you can buy
Have you heard of the 3 E's of H2O cleaning? Our steam cleaners are eco-friendly, economical and highly effective.
Steam cleaning with a H2O product is better for the environment. H2O cleaners only need water to work, which is a completely natural ingredient. Without harmful fumes, harsh chemicals or artificial fragrances, H2O steam cleaners are safe for your family, pets and environment. You'll also reduce chemical and plastic waste instead of continuing to buy cleaning products.
And because H2O products are water-based, they're better for your budget too. Once you purchase a H2O steam cleaner, you won't need to buy additional cleaning products, helping you to save hundreds of pounds each year!
All the steam cleaners in our award-winning range, including the H2O HD, H2O X5 and the H2O iGO cordless steam mop are incredibly effective. Each innovative machine is lab proven to clean as well as any leading brand, giving you the confidence to steam clean. Why not experience how easily they can break down dirt, kill germs and neutralise odours in seconds?
Explore all our H2O steam cleaners and cordless steam mops today to find the best steam cleaner for you.
"Thane", "H2O" and related logos and variations are trademarks or registered trademarks, in the UK and/or other countries, of Thane IP Limited